Austin Motorcycle Accident Attorney
Motorcycle riders are more vulnerable to injury or being killed than any other automobile operator on the road. According to the National Highway Traffic Safety Administration (NHTSA), motorcyclist deaths comprised of 14% of all traffic fatalities, based on 2021 crash data; amounting to 5,932 motorcyclists who lost their lives in accidents. The number of injured riders has yet to be determined, but 2021 data estimates that 82,686 motorcyclists were injured on the road.
If you or a loved one has been involved in a motorcycle accident, contact the Austin motorcycle accident attorney at Bonilla Law Firm. Our Austin personal injury attorneys will help you achieve the justice you deserve for your motorcycle accident injuries. Our team handles cases on a contingency fee basis, so contact us for a free consultation today.
Austin Motorcycle Accident Resources
To access any point on the page below, click any of the following links.
Why Choose The Bonilla Law Firm?
Our extensive experience for 30+ years and legal knowledge allow us to strategically and efficiently help achieve the goals of our clients.
We promise you the highest level of dedication and commitment to your case.
Our team forms long-term relationships with our clients and colleagues by being trustworthy, transparent, and fair.
We thoroughly investigate every case and provide the most optimal means of obtaining the best possible outcome.
Case Results & Testimonials
The Bonilla Law Firm is proud to represent those who have been seriously injured in the city of Austin, and across the state of Texas. We also know what it means to win. Don't believe us? Below are a few of our results.
$2,100,000: Commercial Vehicle Accident Settlement
$2,000,000: Large Truck Wreck Settlement
Here is what some of our proud clients have to say.
"Brad and his team did a great job in helping me navigate the claims process. I was in a rental vehicle within hours of my accident and Bonilla stayed in constant contact with me, giving me important updates and information. My case was successfully settled within 6 months. I highly recommend the Bonilla Law Firm."– Bee S.
"In 15 minutes, from my first ever call to these guys I got better advice than I had got from my current law firm in FIVE months!! We all have things to say about lawyers, mainly when we are in tough life situation. Jon and Brad make life A LOT easier." – Gordon M.
Texas Laws for Motorcycles
Here are three important Texas state laws that are critical to your motorcycle safety:
Helmet Law
Any rider below the age of 21 is required to wear a helmet while using a motorcycle. However, riders over the age of 21 have the option of wearing a helmet if they carry a medical insurance card showing they have at least $10,000 in coverage or have completed an approved Texas Department of Transportation (TxDOT) motorcycle operator training course.
Lane Splitting
It is illegal to drive a motorcycle between lanes of slow-moving or stopped traffic in the state of Texas. Lane splitting is illegal in every state, except for California.
Passengers
Children under the age of five are not legally allowed to ride as a passenger on a motorcycle. Any passenger over the age of five, but under the age of 21 must wear a helmet. Passengers over the age of 21 may choose not to wear a helmet, but only if the driver has the completed the requirements mentioned above. A motorcycle must also have a passenger seat, foot pegs and hand holds.
What is My Motorcycle Accident Worth?
When a motorcycle rider is involved in an accident the injuries can be catastrophic. Unlike their car counterparts, there is no airbag or restraining mechanisms that prevent the rider from becoming airborne. As a result accidents involving motorcycles can be devastating and in some instances fatal.
In serious accidents, an injured accident victim, or their family, can be compensated for medical bills, pain, suffering and in motorcycle fatalities, and wrongful deaths. Dependent on the severity and unique circumstances of each case, damages for a motorcycle accident and a motorcycle injury can vary greatly from one case to the next.
Apart from the physical and mental damages that a motorcycle accident victim has suffered. There are additional claims that can be made for loss of love and loss of consortium. Due to the severity of these accidents, a loss of consortium can be possible as a result of the injuries that were sustained during the auto accident.
If you have been injured in a motorcycle accident, first seek medical attention. After a licensed medical professional has examined and diagnosed the injuries, reach out to a skilled attorney in Central Texas. It's imperative to seek out medical care both for your own health and to have a report of the injuries. Our personal injury lawyers at Bonilla Law Firm can help recoup damages for victims of motorcycle accidents in Austin.
What is the Statute of Limitations for Motorcycle Accidents in Texas?
It is important for victims of motorcycle injuries to know and consider the statute of limitations, or time limits, associated with legal recourse in motorcycle accidents in the State of Texas. Per Sec. 16.003 there is a two year statute of limitations in the state to bring suit for personal injuries.
If you or a loved one have suffered an injury in a motorcycle accident, it is important to remember that there is a limit in pursuing civil damages. To file an injury case against a party that may have caused the accident and injuries, the victim must file this case within two years from the date of the accident.
If a victim of personal injury misses the two year deadline regarding statute of limitations, the victim in question can very likely miss the window to file civil a civil damage lawsuit against a potentially negligent or at fault defendant.
What Are Common Injuries Suffered in Motorcycle Accidents?
Accidents involving motorcycles can leave riders with serious short and long-term injuries. Due to the nature of these accidents, medical expenses can quickly add up. Below are some of the most common injuries that riders experience after an accident involving a motorcycle.
Muscle Damage
Road Rash
Biker's Arm
Broken Bones
Head Injury
Post Traumatic Stress Disorder (PTSD)
This list above outlines some of the more common accident injuries that riders may suffer after an accident. Muscular and skeletal injuries can have long-term impacts on the victim dependent on a numerous amount of variables. Some of these injuries may heal and the rider can live a normal life. However, some of the most extreme injuries including a case involving a traumatic brain injury, spinal cord injuries may never heal fully. If you have been impacted by any motorcycle injury, our attorneys at Bonilla Law Firm are here to help the victims and their families recover.
After an accident, it is of utmost importance to seek immediate medical assistance, and follow instructions given by doctors and medical professionals treating your injuries. A medical report will be imperative during the case and helps outline the injuries suffered for the victim. After a victim has sought out medical attention, it is important to discuss the facts of the case with an experienced Austin motorcycle attorney. Speaking with an attorney shortly after an accident will help ensure the facts are recollected clearly. Our lawyers can then begin to perform research and establish the facts of the case.
What Are Common Causes of Motorcycle Accidents?
Motorcycle accidents can't always be avoided, but being aware of these leading causes of motorcycle crashes can aid in your safety while riding. Some of the common causes of accidents are:
Motor vehicles making left turns into the path of a motorcycle
Drivers that change lanes without checking their vehicle's blind spots
Speeding
Driving under the influence of alcohol (25% of motorcyclists had an illegal BAC in fatal motorcycle crashes in 2016)
Road hazards
Distracted driving
Why Do You Need an Experienced Austin Motorcycle Accident Attorney?
Insurance companies will do whatever is necessary to pay the least amount of money to you or your family for a motorcycle accident. Because Texas follows a modified comparative fault rule, if an insurer can find you more than 50% at fault then you will not receive compensation. If you are found to be less than 50% at fault, then the compensation you are awarded will be reduced by your percentage of fault. An attorney with experience handling Texas accident claims involving motorcycles will be knowledgeable of the challenges that come with proving fault. Serious injuries can occur in motorcycle accidents including (but not limited to) traumatic brain injuries, spinal cord injuries, and in some cases, wrongful deaths.
Our personal injury attorneys will conduct their own investigation in order to obtain evidence on your behalf.  Hiring an attorney will alleviate you from the stress of dealing with an insurance company and will help hold negligent parties responsible. Our motorcycle accident lawyers will help guide our clients through the complicated claim process and, if needed, file a lawsuit.
Types of Compensation Available for a Texas Motorcycle Accident 
Motorcycle accident victims in Austin, TX, may be able to recover a wide range of compensation if another individual caused the incident. At Bonilla Law Firm PLLC, our goal is to ensure clients recover both special and general damages as a result of the incident.
Special damages. You may see these referred to as economic damages, and this includes the calculable losses that a motorcycle accident victim is likely to incur. When we say calculable, we mean that there are receipts, invoices, and bills that come in after the incident that the victim will be responsible for. This includes, but is not limited to, the following:
Emergency medical bills related to the incident

Any follow-up or ongoing medical expenses at a doctor or hospital

Coverage of prescription medications or medical devices

Compensation for physical therapy or rehabilitation if needed

Coverage of any home or vehicle modifications to accommodate the disability

Lost wages if a motorcycle crash victim is unable to work

Property damage expenses

Rental vehicle expenses

Compensation to help pay for household services
General damages. You may see general damages referred to as non-economic damages. These types of losses are different from the calculable expenses mentioned above. Non-economic damages revolve around more immeasurable losses motorcycle crash victims are likely to experience. There will not be bills or receipts that can be added up, but these types of losses are still very real and important to recover:
Physical pain and suffering damages

Emotional and psychological traumatic damages

Loss of quality of life damages caused by disability or disfigurement

Loss of consortium for a spouse or family members
There is no specific amount of compensation paid to motorcycle crash victims in Austin. Every single incident will need to be examined separately, and some of the factors that will be included in a total settlement are the severity of injuries, how long it takes to recover, documented pain and suffering, total property damage expenses, and whether or not there was any shared fault.
In the event there was any shared fault for the incident, the total amount of compensation paid to a plaintiff may be reduced depending on their percentage of fault. In the event a person is found to be 51% or more responsible for causing their own injuries, they will not be able to recover compensation at all.
What if a Motorcyclist Was Partially at Fault for an Accident?
During an accident, it is possible that the motorcyclist could be found to be partially or at fault for the accident. In the State of Texas, there is a modified comparative fault rule that can distribute damages based on the drivers that are partially at fault for the accident. The Texas negligence laws outline legal rules for proportionate responsibility, applicability and determination of percentage of responsibility.
Per Sec. 33.001 of the Civil Practice and Remedies Code – Proportionate Responsibility applies to a claimant may not recover damages if the percentage of responsibility is greater than 50%.
If an individual is found to be at fault for 50% or more of the accident they are pursuing damages for damage, they will be ineligible to receive damages for the motorcycle accident. However if the individual is found to be 49% responsible or less, that individual may be eligible to receive compensation from the accident.
How Do You Prove Negligence In a Texas Motorcycle Accident Case?
Proving negligence is a large component in many personal injury cases. There are a few separate elements that a plaintiff and their legal representation will need to address. There are five separate elements that need to be demonstrated by the plaintiff. These five elements are:
Duty – In a motorcycle accident, the plaintiff needs to prove that the defendant should have acted – or acted differently. All motorists have a duty to pay attention to the road and remove distractions including smart phones, reading, impaired driving etc.
Breach of Duty – The plaintiff's side must prove that the defendant failed to do something – or refrain to do something – that is the defendant's duty to perform. For example a motorist driving a vehicle and watching videos on a smartphone has breached their duty.
Cause in Fact – The injury was "in fact" a result that resulted from the defendant's breach of duty. If the defendant was driving a vehicle and watching a video on a smartphone and caused a motorcycle accident. If the defendant was in-fact paying attention, the accident would not have occurred.
Proximate Cause – Is it obvious to a reasonable person that distracted driving can result in an accident? The defendant should have understood that distracted driving could result in a motor vehicle accident.
Damages – What kind of actual physical or mental harm did the plaintiff experience that the court systems are able to compensate them for?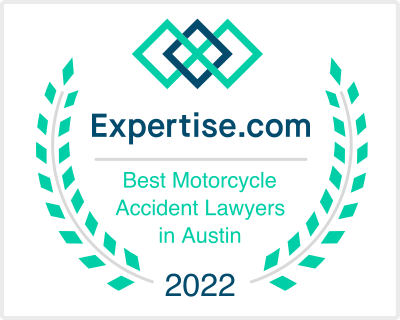 Our Austin motorcycle accident lawyers have over 30 years of combined legal experience protecting the rights of those injured in accidents involving motorcycles.  At our Central Texas law firm, our focus is on personal injury cases that allows us to guard and fight for the interests of our clients, while working on behalf of motorcycle accident victims suffering personal injuries. Call us today to schedule a free case evaluation to obtain some legal advice regarding the unique circumstances of your case. Our personal injury lawyers offer free initial consultations and help victims recoup damages caused by these accidents.
Our Office In Austin, Texas
Locations We Serve
We serve multiple areas in Austin, including:
East Austin | Downtown | Clarksville  South Congress (SoCo) | Zilker | Barton Hills | Travis Heights | Clarksville | Hyde Park | Tarrytown |Bouldin Creek | Mueller | Crestview | Allandale | Rosedale | Brentwood | Windsor Park | South Lamar | North Loop | Cherrywood | East Cesar Chavez | Old West Austin | Pemberton Heights | Steiner Ranch | Circle C Ranch | Barton Creek | Avery Ranch | Travis Country.
Frequently Asked Questions
How Much Does It Cost To Hire A Motorcycle Accident Lawyer?
Paying for a motorcycle accident lawyer in Austin is not as difficult as you may think. Our team is proud to handle these claims on a contingency fee basis, which means a few things for crash victims.
First, motorcycle accident victims will pay no legal or attorney fees until after we are able to successfully secure compensation for their losses. If we do not win, our clients do not pay.
Additionally, clients will face no ongoing costs throughout the entire case. They will not pay any filing fees, and they will not have to bare any costs related to investigating the incident.