Austin Car Accident Lawyer
Car accidents are an unfortunate part of everyday life for thousands of Americans. A serious injury after a car accident can affect your life in more ways than you may initially realize, including your personal life and career. If you or a loved one has been seriously injured at the fault of another, our Austin car accident attorneys at Bonilla Law Firm are here for you. We have over 30 years of experience successfully recovering compensation for our clients.
To contact our car accident and personal injury lawyers in Austin to ask questions regarding the unique circumstances of your auto accident case call us at (512) 441-1111.  Our experienced car accident lawyers offer knowledgeable representation to help restore what was lost. We know how stressful and life changing car accidents can be, and our experienced Austin car accident lawyer is to help with your needs. Contact our attorneys to schedule a free case evaluation today.
Austin Car Accident Attorney Resources
Why Choose the Bonilla Law Firm?
Our highly experienced and well-informed Austin personal injury attorneys strategically and efficiently help achieve the goals of our clients.
We form long-term relationships with our clients and colleagues by being trustworthy, transparent, and fair.
We work effectively in search of the most optimal means of obtaining the best possible results.
We never charge upfront fees, only if and when we win your case, do we get paid.
Why Should I Hire An Accident Attorney?
When you have been injured in a rollover car accident , rear-end, side-collision, head on, drunk driving accident, or any other form of a car accident hiring a car wreck attorney can be invaluable. Injuries not only cause physical pain but financial strain as well. Freely consulting with an experienced attorney regarding car accident cases and legal options helps make a well-informed decision on how to move forward and the best pathway to do so. Working with an Austin car accident attorney can alleviate you from:
Obtaining police reports/statements
Speaking to and working with insurance adjusters
Collecting and analyzing medical records
Interviewing witnesses
Collecting factual information from the other parties involved
Hiring experts to aid in reconstructing the accident
Negotiating a settlement
Insurance companies have teams of their own lawyers and adjusters that are looking out for their own best interests. Some of these carriers begin evaluating your injury claim and as soon as they are notified. Retaining legal counsel immediately after you are injured is essential to recovering the compensation you are owed.
After a car wreck occurs, medical bills can quickly pile up. In some instances, emergency surgeries and operations are required to help a victim of an accident. In the most extreme scenarios, auto accidents result in wrongful deaths that can put the surviving family members under enormous financial and emotional stress.
Our Results & Testimonials
One of our clients was in a serious commercial vehicle accident with a serious injury and back surgery. We settled for $2.1 million.
Another one of our clients was in another car accident that had multiple fractures, and we settled for $1.0M.
I highly recommend the Bonilla Law Firm. Brad and his team did a great job in helping me navigate the claims process. I was in a rental vehicle within hours of my accident and Bonilla stayed in constant contact with me, giving me important updates and information. My case was successfully settled within 6 months. I highly recommend the Bonilla Law Firm. – Bee S.
Facts & Causes of Car Accidents
Since the year 2000, there has not been a single day where someone has not died on a Texas road. Last year, one person was killed every 1 hour and 27 minutes, one person was injured every 2 minutes and 9 seconds and one reportable crash occurred every 57 seconds, according to traffic crash statistics given by the Texas Department of Transportation (Texas DoT). A total of 244,092 people were injured in traffic accidents and 4,481 of those were fatally wounded in 2022. Causes of car accidents are wide-ranging and include distracted driving, unsafe driving techniques and drunk drivers.
Around 4.57 million people were injured seriously in car accidents last year and required medical attention, according to the National Safety Council. More than 46,000 lives were claimed in car crashes in 2022 in the United States alone.
Here are the leading causes of car crashes in Texas throughout 2022:
| | | |
| --- | --- | --- |
| Contributing Factor | Fatal Crashes | Total Crashes |
| Failed to Control Speed | 577 | 136,165 |
| Driver Inattention | 332 | 84,887 |
| Other (Not Explained) | 509 | 45,768 |
| Failed To Drive In Single Lane | 830 | 45,632 |
| Failure To Yield – Turning Left | 158 | 35,674 |
| Failure to Yield – Stop Sign | 128 | 30,314 |
| Unsafe Speed | 457 | 23,633 |
| Disregard Stop & Go Signal | 128 | 22,490 |
| Under The Influence of Alcohol | 714 | 15,402 |
What are Common Causes of Car Accidents?
There are various ways that car accidents can occur in and around the Austin area. The majority of car accidents are caused by human error. In some cases, driving mistakes are relatively minor, but they can still result in serious accidents. Below, we discuss some of the most common causes of car accidents in the United States, and subsequently, in the Austin area.
Distracted driving. Distracted driving becomes more and more of a threat each year, particularly as technology becomes more integrated into our daily lives. Anything that takes a driver's attention off the roadway is considered distracted driving and incredibly dangerous.
Impaired driving. Driving impaired by alcohol or drugs is a leading cause of traffic fatalities in Texas each year. Drivers impaired by any substance lose their ability to focus on the road.
Speeding. While it can be tempting to drive over the speed limit, particularly if you are running late, speeding is continually a leading cause of traffic injuries and fatalities each year in Texas.
Reckless driving. There are various types of driving behavior that can be considered reckless, including driving well over the speed limit, changing lanes too quickly, racing, and road rage.
Running red lights or stop signs. When a driver willfully ignores stop signs or traffic signals or is distracted and does not stop accordingly, serious high-speed accidents are likely to occur.
Tailgating. There is never a good reason to follow the vehicle in front of you too closely, regardless of how slow they may be moving. Failing to keep a safe distance away from the car in front of you can result in severe accidents if the vehicle suddenly turns or uses their brakes.
Improper turns. There are times when drivers can turn down the wrong way of a one-way street or when drivers turn in front of oncoming traffic. Any improper turn on the roadway can lead to severe accidents.
Roadway defects. In some cases, there are no drivers to blame for an accident, particularly if a roadway defect caused a crash. In cases of potholes or debris lying on the roadway, the government agency responsible for roadway maintenance may be responsible for a crash.
Vehicle malfunction. In some cases, vehicle crashes are caused by a malfunction in the vehicle itself. This could be caused by a flaw in the vehicle design or a faulty part in the vehicle. These vehicle malfunctions could also be caused by a mistake made by a mechanic.
What are Common Car Accident Injuries?
Unfortunately, thousands of people are injured each year in and around the Austin area due to car accidents. According to the Center for Disease Control and Prevention (CDC), for every one person that loses their life in a vehicle accident, eight others are hospitalized for an injury and 100 more are treated and released from an emergency department.
Some of the most common injuries that the team at Bonilla Law Firm helps clients that have been impacted by the following kinds of injuries:
Broken and dislocated bones
Severe lacerations or puncture wounds
Spinal cord injuries with possible paralysis
Other neck and back injuries, including whiplash
Traumatic brain injuries and concussions
Open head wounds
Internal organ damage or internal bleeding
Crush injuries or amputations
Our Austin car accident attorneys also regularly help clients who have sustained immense emotional and psychological trauma due to their accident. In many cases, car accident victims can suffer from post-traumatic stress disorder as a result of the incident and their subsequent injuries.
How Many Fatal Auto Accidents Occur in Texas?
In 2021, The State of Texas experienced 4,068 fatal crashes that resulted in 4,498 deaths from motor vehicle accidents. In this calendar year, Texas experienced the most deaths from fatal crashes in the United States. 
While Texas checked in as the second most populous state in the country, the amount of accidents that resulted in fatal injuries underlines the dire dangers of auto accidents. When driving, ensure that all individuals within a vehicle understand the safety measures of a vehicle and follow all local and state guidelines while operating a motor vehicle. 
In Texas, fatal auto accidents can cause devastating emotional damages to surviving loved-ones. Surviving members of a fatal accident victim may suffer financial hardships, loss of companionship and emotional damages. If a loved one in your family has lost their life in a fatal accident, our Austin wrongful death attorneys are here to assist surviving members recoup damages suffered from the tragic accident.
What is the Statute of Limitations in Texas for Car Accidents?
In the State of Texas there is a time limit, also known as statute of limitations, for victims of personal injury to file a claim. For car accidents this time limit is two years from the date the injury occurred.
It is important to remember the statute of limitations if an injured victim decides to file an accident injury claim. Injured victims that fail to file a suit within the two-year time frame, risk losing the option to file a civil suit against a potential defendant. 
To ensure that accident victims do not miss the deadline to file a case, it is of utmost importance to discuss the facts and details of a case as quickly as possible after personal injuries are sustained. Talking to an attorney shortly after the accident allows a legal team to begin to conduct the necessary research and build a case while the accident is fresh in a victim's mind. 
Our attorneys are here to handle the legal work, research, negotiate with insurance companies, assess damages relating to medical and emotional tolls and consult with reconstruction experts to establish the cause of the car accident. After an auto accident occurs, victims should focus on what's most important- recovery. Our attorneys can handle the rest. 
Is Texas a Comparative Fault State?
Yes – Texas is a comparative fault state – meaning that if an individual is found to be 50% or more at fault for the accident, they will not be able to recover damages.
The State of Texas operates under a "modified comparative" fault state. This means that if one of the parties involved is found to have been at partial fault for the auto accident, the court system will establish and calculate the percentage of fault that can be attributed to each party.
For example if there is a car accident case where the plaintiff is suing a defendant in the amount of $1,000,000 of damages – and the plaintiff was found to be 25% at fault for the ensuing accident – the plaintiff could potentially be awarded $750,000 in this specific example.
If the car accident plaintiff is found to be partially at fault for that accident, that percentage of fault will be reduced to reflect the percentage equal to that party's respective fault.
What Damages Can I Recover After a Car Accident in Texas?
In the aftermath of a car accident that occurs in Austin, Texas, there are various types of compensation that you may be able to recover if you sustain injuries and property damage. There is no set amount of compensation paid in these situations. The total amount of compensation paid to crash victims in Austin will vary depending on the severity of the injuries, the length of the recovery time, the estimated property damage, whether or not there was any shared fault, and more.
Below, we will delve into the various types of compensation available in the aftermath of a car or motorcycle accident. We strongly encourage you to work with a skilled Austin motorcycle accident attorney at Bonilla Law Firm who can help adequately calculate your total losses.
Economic Damages
Economic damages are also referred to as "special damages" when it comes to vehicle accidents. These types of damages revolve around calculable expenses that an Austin car accident victim will likely sustain after the incident. We can consider these calculable expenses because we can add up the damages by gathering bills, receipts, pay stubs, tax returns, and other verifiable proof.
Some of the most common economic damages associated with vehicle accidents in Texas include:
Emergency medical expenses

Hospital costs

Follow up doctor's office costs

Physical therapy or rehabilitation

Surgical expenses

Prescription medications

Medical devices

Lost wages

Out-of-pocket expenses

Property damage expenses
Adequately calculating economic damages after a car accident involves taking those bills in receipts and finding a total. There will be some challenges when it comes to calculating lost wages if a person is unable to work in the future as a result of a disability or if they cannot return to the same type of work they performed before.
Non-Economic Damages
Non-economic damages are also referred to as "general damages," and these are less calculable there in the types of losses mentioned above. Unfortunately, there are not necessarily bills and receipts associated with these types of losses that an individual will likely sustain after a vehicle accident occurs. However, these types of damages are just as important, because individuals certainly experience the following:
Physical pain and suffering damages

Loss of quality of life damages

Mental and emotional anguish

Loss of consortium for a spouse or family
Calculating non-economic damages after an Austin vehicle accident can be more challenging and typically involves using a multiplier method. This means that an injury lawyer will get the total for all the economic damages mentioned above and then multiply that total by a set number, usually a number ranging from 1.5 to 5. For example, if a person sustains $50,000 worth of economic damages, an injury lawyer may use a multiplier of "three" to reach a non-economic total of $150,000. Overall, the injury lawyer would ask for $200,000 on behalf of their client.
Punitive Damages
Punitive damages are not awarded in every car accident claim in Austin, TX. These types of damages are reserved for situations where a judge or jury determines that the defendant's actions were egregiously negligent or intentional. Punitive damages are meant to punish the wrongdoer and send a signal to others that the types of actions displayed in the case are not acceptable. Essentially, they should act as a deterrent to others.
Do I Need to Report My Car Accident?
In Texas, there are instances when auto accidents must be reported to the Department of Transportation. It is required to report a car accident if any of the following events occur:
Injury to a person
Death to a person
Property damage exceeding $1,000
If any of the events occurred outlined in the points above, a Crash Report form (CR-2) needs to be submitted to the Texas Department of Transportation within ten days of the date of the accident. This form needs to be completed by yourself, an insurance agent, the owner of the vehicle involved in the accident or a legal representative.
If however, a police officer investigates the car accident scene and finds that there is an injured person, a death has occurred, or property damage exceeding $1,000, the police officer is required to submit a crash report per Texas Transportation Code §550.062. If this has occurred, an individual is not obligated to file the crash report. If you are confused whether or not you need to report a car accident, or if you are in the need of legal car accident assistance from an experienced attorney, our law firm can help.
What Types of Car Accidents Does The Firm Handle?
Not all car accidents are caused by the same type of event. Our Austin car accident lawyers understand how different one kind of auto accident can be from the next. Austin is one of the fastest growing metro areas in the United States. With the ongoing population boom, the infrastructure has not been able to keep up with the rapidly growing population.
At Bonilla Law Firm, our Austin car accident lawyers handle accident cases caused by several different causes. Our injury lawyer handles car accidents caused by the following causes:
Impaired driving –

Impaired driving can lead to serious car accidents, resulting in injuries, and in some cases, death for those involved. In Texas, a person is

killed every nine hours and six minutes

in a crash where alcohol was a factor. 

Speeding –

Speeding is a common variable involved in many auto accidents. In 2019, speeding resulted in the deaths of 9,478 individuals. When a driver is operating a vehicle at excessive speeds, the potential for loss of vehicle control increases drastically. 

Tailgating –

Tailgating increases the potential of auto accidents as drivers that engage in this behavior do not have enough time or room to brake if the front car decreases their speed rapidly. Avoid tailgating and give a car in front of you ample space in the event that unexpected braking happens.  

Failure to yield –

While the majority of individuals will follow the appropriate yield laws, more aggressive drivers may fail to yield. Failing to yield in Texas can result in injury and fines. If failing to yield caused a bodily injury, the infractions levied on an individual can vary between $1,000 – $4,000. 

Distracted driving –

Distracted driving accidents occur from a number of issues. Drivers that text and use mobile devices, talk to passengers, eat, apply makeup or engage in other behaviors can increase the likelihood of auto accidents. If a driver sends or reads a text and takes their eyes off the road, a car going 55 MPH can drive the length of an entire football field. Focus on the road and limit the amount of distractions in the cab of a vehicle.

Unsafe driving conditions –

Weather conditions including snow, ice, fog wind and rain can cause unsafe driving conditions. These conditions can increase the likelihood of auto accidents. When driving in variable weather conditions, take additional precautions while driving and always allow extra space between the vehicle in front of you. 

Hit and run –

Any driver involved in an accident that involves property damage or an injury needs to remain on the scene (regardless of fault). Leaving the scene of an accident is a criminal offense that is punishable by up to one year for non-serious injuries and ten years for serious injury or death. Always remain at the scene of the accident after a collision occurs to exchange information, and if needed, contact first responders.

Rear-end collisions – 

Rear-end auto accidents are common. More than 1.7 million rear-end accidents occur every year. These accidents commonly result in neck and back injuries that may have delayed symptoms well after the accident has occurred. 

Rollover accidents –

Rollover accidents can be particularly catastrophic and violent in nature. A rollover is defined as an accident that involves an automobile to tip over on the side or on it's roof. In extreme scenarios, passengers of the vehicle can be ejected from the cab. Rollover accidents can cause serious injuries and in extreme cases, can result in death. 
If you or someone in your family has suffered any of the accidents outlined above, our Austin car accident attorneys are here to answer your questions about the insurance company and provide a legal resource during this time of need. Discuss the specifics of your case with an Austin car accident lawyer.
Are Traffic Accidents Increasing in Austin, TX?
Traffic and congestion tends to increase the amount of auto accidents. Car accidents increased in 2019 from the totals of 2018. In 2020, congestion and traffic accidents decreased substantially as a result of COVID-19. Below annual auto accident statistics are examined between 2018-2021.
2018
Due to the population growth in the metropolitan area, congestion and traffic accidents increased in 2018 resulting in 36,987 total accidents. This increase in congestion and traffic contributed to an increase in auto accidents.
The average amount of traffic accidents in Austin in 2018 was 3,082 per month.
2019
In 2019, the total number of collisions, crashes, fleet accidents involving injuries and fatal injuries and traffic fatalities increased from 36,987 to 37,237. A total of 250 more traffic accidents occurred in 2019 compared to 2018 for an average of 20.8 more auto accidents per month in 2019 compared to the prior year.
The average amount of traffic accidents in Austin in 2019 was 3,103 per month.
2020
In 2020, in large part due to COVID-19 restrictions, high unemployment, work from home options and an overall reduction in vehicle traffic and traffic congestion, the total amount of traffic accidents in 2020 reduced from 37,327 in 2019 to 23,239 in 2020. The large decrease in auto accidents has a direct correlation to the reduction in traffic and congestion resulting from the largest global pandemic in more than a century. The amount of traffic collisions reflected a 38% reduction in auto accidents in 2020 compared to 2019.
The average amount of traffic accidents in Austin in 2020 was 1,936 per month.
2021
In 2021, as the United States began to slowly emerge from the COVID-19 pandemic, traffic and auto accidents also increased.
The average amount of auto accidents per month between January 1, 2021 and June 1, 2021 amounted to 1,978 accidents per month. This reflects a slight increase year over year from 2021 compared to 2020 with the average volume of monthly auto accidents.
2022
In 2022, the Austin Police Department has noticed a worrying increase in fatal traffic accidents. Through October, there have been 86 fatal car crashes just within Austin. This is a significant amount over the 5-year average. While crash data has yet to be complied for this year, this increase in fatal accidents will correlate with higher non-fatal accidents.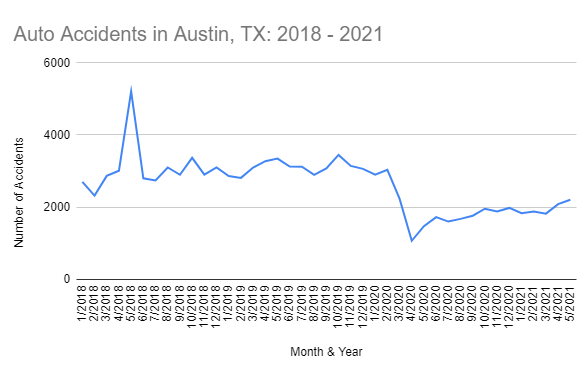 Do I Need to Carry Car Insurance in Texas?
Yes – Texas law requires that drivers carry a minimum amount of auto insurance from an insurance company. Texas law also requires drivers to provide proof of insurance coverage for accidents the at-fault party has caused.
Liability insurance helps pay for damages caused to another party's car. This liability insurance can cover repairs and replacement of an automobile along with property damage and medical expenses caused by the at-fault party.
In Texas, it is required to carry a minimum of $30,000 of coverage for injuries to a person, $60,000 per auto accident and $25,000 for coverage for property damage. This insurance is called 30/60/25 coverage.
While the 30/60/25 provides the minimum liability limits per Texas State law, this insurance may be inadequate in the event of expensive multi-vehicle accidents in Austin or if another party's vehicle is totaled. If the damages associated with an accident surpass the insurance policy limits, the at-fault individual(s) may need to pay for the additional damages out of pocket.
If an individual owes money to a lender on a car, the lender mandates that a driver carries adequate collision and comprehensive auto insurance coverage.
While the majority of individuals comply with the insurance laws in Texas, there are instances when individuals will not be properly insured by an insurance company.
What Happens If I've Been Hit By an Uninsured Driver in Texas?
Auto accidents can quickly surpass damages that exceed tens of thousands of dollars. In extreme scenarios that result in life-altering serious injuries, and death, these accidents may surpass seven figure settlements.
Medical bills, property damage, emotional damages, loss of enjoyment of life and additional factors and damages can contribute to a large settlement or verdict in a car accident case. If an individual is at-fault in a car accident, and also uninsured by an insurance company, that individual can be held responsible for the damages caused.
In Texas, 8.3% of drivers are uninsured or roughly one out of every twelve drivers on the road are uninsured. When uninsured drivers cause auto-accidents, an experienced lawyer can help.
If this is the case in a car accident, it may be necessary to hire an experienced Austin car accident attorney. A car accident lawyer that is well-versed in auto accident cases can help recover compensation to help off-set the damages caused in an accident by uninsured drivers.
Will Your Car Accident Case go to Court?
Individuals who are injured in car accidents often wonder whether or not they will have to go to court to recover the fair compensation they are entitled to. After an Austin car accident, there is a very good chance that the claim will be resolved through a settlement with the insurance carriers or insurance company involved in the case. The vast majority of all personal injury claims, not just vehicle accident claims, are resolved through settlements with the insurance carrier.
However, that does not mean that a settlement will be easy or necessarily fair. It is imperative to work with an Austin car accident lawyer who can handle all communication and negotiations with the at-fault party's insurance company in order to ensure that you receive the fair compensation you are entitled to. All too often, insurance carriers try to lowball the settlement in an attempt to get you to take much less than you actually deserve. In some cases, they may deny the claim altogether.
In the event your claim is denied by the insurance carrier, or if they refuse to offer a fair settlement amount, it may be necessary to file a civil personal injury lawsuit against the at-fault driver. This will officially put the case into the court system, but that does not mean you will have to go to court. The discovery process will begin when both sides exchange evidence with one another, and it is likely that negotiations will also continue as more evidence comes to light. In the event a settlement still cannot be reached, then you and your attorney may need to take the case to a jury trial.
Will You Pay Taxes on Your Austin Car Accident Settlement?
When determining whether or not you will pay taxes on a car accident settlement or jury verdict, we will have to examine the different types of damages a person may be able to receive. Typically, we will find that the compensation individuals receive for the medical bills associated with the car accident will not face any taxation at the federal or state levels. The same can be said for compensation related to out-of-pocket expenses caused by the incident as well as any pain and suffering damages a person endures.
However, a major portion of a car accident settlement could revolve around lost wages. In the event an individual is unable to work and secures wage replacement through a settlement or jury verdict, they will have to pay taxes on this compensation. This is typically seen as justified because individuals would have continued to work and made money, thus continuing to pay taxes, had the incident not occurred. This part of the compensation is simply designed to replace the wages a person already would have earned and is taxed accordingly.
In rare cases, punitive damages are assigned if the conduct of the defendant was found to be particularly egregious or intentional. If a car accident victim is awarded punitive damages, this will also likely be taxed.  
If you or somebody you care about expects to receive a settlement or jury verdict compensation after a car accident in Austin, we encourage you to reach out to a skilled accountant who can help you figure out your taxable liabilities.
Do I Have a Car Accident Claim in Austin, TX?
After injuries in an auto accident are suffered, an injured victim may be confused whether or not they can file a personal injury claim in Texas. Certain injuries may be minor in nature, while other injuries can be life-altering, catastrophic, and in extreme cases, fatal.
At our law firm, our Austin auto accident lawyers examine the specifics of your case and help victims recover compensation for the damages and pain and suffering caused in an accident. 
If your injuries have caused a loss of work, unforeseen medical bills, pain and suffering or emotional damages you may have cause to bring a claim against those responsible for the injuries suffered. 
How Are Damages From a Car Accident Calculated?
There is no one size fits all response to this question. Depending on the circumstances of the claim, damages for an injury from an auto accident can range anywhere from four figures to seven figures or more. 
Generally speaking, the more severe the injuries, pain and suffering, property damage, impact on the victim, along with their loved ones, loss of income and loss of ability to work. will award larger damages than accidents that are less severe in nature.  
An experienced car accident attorney in Austin can help estimate the value of an auto accident claim.
Bonilla Law Firm has decades of experience in protecting the rights of car accident victims. We have the resources to stand toe-to-toe with insurance company or carrier. Our car accident attorneys have the necessary skills and dedication to fight to ensure that you are fairly compensated for your losses. Our personal injury law firm is here to help in the difficult time for our injured clients. Contact our auto accident attorneys for a free consultation today via our online contact form or by phone at (512)-441-1111.
Visit the Link Below for Directions to Our Office
Locations We Serve
We also serve multiple locations in Austin, including:
Downtown | South Congress (SoCo) | Zilker | East Austin | Barton Hills | Travis Heights | Clarksville | Hyde Park | Tarrytown | Bouldin Creek | Mueller | Crestview | Allandale | Rosedale | Brentwood | Windsor Park | South Lamar | North Loop | Cherrywood | East Cesar Chavez | Old West Austin | Pemberton Heights | Steiner Ranch | Circle C Ranch | Barton Creek | Avery Ranch | Clarksville | Travis Country.